How To Start And Create A Blog In 2019 An Easy Free Step-By-Step Beginner's Guide To Create A Blog In 20 Minutes
Are you looking for a free, easy, step-by-step guide on how to start and create a blog in Cameroon?
My free guide on this page will show you how to create a blog in Cameroon that is beautiful and functional, all in an easy step-by-step tutorial (with pictures).
Ready to start the simple step-by-step tutorial to start and creae a blog in cameroon?
My name is Great Mike, and I am going to show you how to start blogging. I have been building blogs and websites since 2014. In that time I have launched several of my own blogs, and helped hundreds of others do the same.
I know that starting a blog can seem overwhelming and intimidating. This free guide is all about starting and creating a blog for blogging for beginners, and will teach you how to be a blogger with just the most basic computer skills. So whether you're 10 or 100, you can create your own blog in less than 20 minutes.
I am not ashamed to admit that when I was first learning how to build a blog I made a ton of mistakes. You can benefit from my experience so that you don't repeat these same mistakes when you make your own blog. I created this free guide so that anyone can learn how to blog quickly and easily. And if you get stuck at any point, please send me a message and I will do my best to help you!
What is a blog anyway?
In short, a blog is a type of website that focuses mainly on written content which is updated continuesly, also known as blog posts. In popular culture we most often hear about news blogs or celebrity blog sites, but as you'll see in this guide, you can start a successful blog on just about any topic imaginable.
Bloggers often write from a personal perspective that allows them to connect directly with their readers. In addition, most blogs also have a "comments" section where readers can correspond with the blogger. Interacting with your readers in the comments section helps to further the connection between the blogger and the reader.
This direct connection to the reader is one of the main benefits of starting a blog. This connection allows you to interact and share ideas with other like-minded people. It also allows you to build trust with your readers. Having the trust and loyalty of your readers also opens up the door to making money from your blog, which is something I discuss later in this guide.
Should you start and create a blog in Cameroon?
One of the misconceptions about starting a blog is that you need to be a great writer to be successful. Nothing could be further from the truth. People read blog sites to get a personal perspective on things, so most bloggers write in a very informal and conversational style.
In addition, you don't need to be an expert on your topic in order to have a successful blog. For example, readers of a cooking blog don't want to read a textbook from a food scientist, they want to hear the experiences of someone who has actually cooked some real meals, mistakes and all.
To be successful as a blogger there is really just one requirement: a passion for your topic.
At its heart, blogging is about sharing your knowledge with the world. Choosing a topic that you are passionate about makes the process of starting a successful blog so much easier. Writing about more than one topic is totally fine too. As long as you are writing about things that you are genuinely interested in, your passion will shine through and keep your readers interested.
So why would you go to the trouble of blogging? There are a few reasons:
Make money from home. Blogging can be quite lucrative if done correctly. The top bloggers in the world obviously earn quite a bit, but even a part-time blogger can expect to make a nice profit if things are done correctly. The best part about it is that blogging is a form of passive income, since you can spend just a few hours a week writing a blog post and then continue to make money from it long after the blog post is written. I go into much more detail on how to blog for money later in this guide.
Share your story. A blog allows you to have a voice and be heard. You can share your story with the entire world if you so choose. One of the most common ways blogs are used are as a diary where the blogger writes about their daily experiences so that friends, family, and others can all be a part of their lives.
Recognition for yourself or your business. No, you probably won't have paparazzi following you around because of your latest blog post. But a successful blog can gain you a ton of recognition in your respective field. Many bloggers are known as experts just because of their blogs, and some have even gotten book and movie deals based on their blogs.
Find a community. Blogging at its heart is interactive. You write a blog post and people comment on it. This is a great way to connect with people who are interested in the same things as you are. Blogging allows you to teach these people based on your experience, and it gives you the opportunity to learn from your readers as well.
The good news is that the internet is exploding with growth right now. More people than ever are online. This explosion in growth means more potential readers for your blog. In short, if you are thinking about starting a blog then there is no better time than right now.
So, just how do you start a blog?
How to Start and Create a Blog in Cameroon in 6 Steps
Learn how to create a blog in about 20 minutes following these steps:
Pick a blog name. Choose something descriptive.
Get your blog online. Register your blog and get hosting.
Customize your blog. Choose a free template (theme) and tweak it.
Write & publish your first post. The fun part!
Promote your blog. Get more people to read your blog.
Make money blogging. Choose from several options to monetize your blog.
Let's start your blog!
Step 1: Pick a blog name
The first step to finding a good blog name is choosing your topic.
If you're not sure what to blog about, there are a few ways to find a good blog topic:
Hobbies & passions. Hobbies or other interests you are passionate about are a great place to start. Cooking, travel, fashion, sports, and cars are all classic examples. But even blogs about more obscure hobbies can be successful, since the your audience is literally anyone in the world with the internet.
Life experiences. Everyone has lessons they have learned through life experience. Sharing this knowledge can be incredibly helpful to others in similar situations. For example, I recently helped a woman start her blog about being a fireman's wife. She has a lot of experience and knowledge to share with others about this topic, and it has helped her connect with others in similar situations.Think about the things you have experienced in life. This could be related to your family (example: a blog about being a stay at home mom), work (a blog about experiences dealing with clients), or other life experiences (a blog about dealing with a troubling time such as a disease or divorce, or about a happy time such as preparing for a wedding or a birth of a child).
A personal blog. A personal blog is a blog all about you. This will include a variety of topics, from things you do on a daily basis, to random thoughts and musings. This is a great way to share you thoughts with the world without having to stick to just one topic.
Once you have a topic it's time to choose your blog name.
A good blog name should be descriptive so that potential readers can instantly tell what your blog is about just from the name.
If you are blogging about one specific topic then you will definitely want to include that in some way in your blog name. Try not to get hung-up on just one word though. For example, a cooking blog doesn't necessarily have to have the word "cooking" in it. The words "food", "recipes", and "meals" would also let people know that your blog is about cooking.
If you are planning to create a personal blog where you discuss a variety of topics then I recommend using your name, or some variation of it, since your blog is all about you. For example, I own the blog mugabewisom.com. You can also add your middle name or middle initial if you find your name is already taken. Or you could use a variation like "Mugabe Wisdom Blog" or "Blogging with Mugabe Wisdom".
Once you have some blog name ideas you will need to choose a domain extension.
A .com domain extension is the most preferred, but .net or .org work as well. It is also important to note that for the purposes of a blog domain you cannot have any spaces between words. So "Mugabe Wisdom Blog" becomes mugabewisdomblog.com
Note: You cannot use any spaces or punctuation other than dashes in a domain name.
If you find that the name you wanted is already taken there are a few things you can do:
Try a different domain extension. If the .com version is already registered you may still be able to get the .net or .org version of your blog name.
Add small words. Words like "a", "my", or "the". For example, this site is called TheBlogStarter.com instead of BlogStarter.com.
Add dashes between words. For example, scott-chow.com
Step 2: Get your blog online
Now that you've got a name picked out it's time to get your blog online. This might sound hard or technical, but the steps below will walk you right through and make the process easy.
To get your blog up and running you need two things: blog hosting and blogging software. The good news is that these typically come packaged together.
A blog host is a company that stores all of the files for your blog and delivers them to the user when they type in your blog name. You must have a blog host in order to have a blog.
You also need to have the software to build your blog. In this guide I will be showing you how to build a blog using the WordPress blogging software, because it is the most popular, customizable, and easiest to use.
The blog host I recommend, and the one I show you how to use in this guide, is BlueHost. I personally use BlueHost and I recommend them for all new bloggers because:
They will register your blog name for you for free, making sure no one else can take it.
They offer a free, simple installation of the WordPress blogging software (which I show you how to use in this guide).
They have been recommended by WordPress since 2005 and currently host over 2 million blogs and websites.
They have helpful 24/7 customer service via phone or web chat.
They have a money-back guarantee if you are unsatisfied for any reason.
I recommend Namecheap as the best hosting company I am use to. In fact, if you have any trouble at all setting up a blog with this tutorial, just contact me and I will do it for you.
Domain Name Explained
Domain Basics
Every website needs a domain name. Your domain is like the street address for your house. It will allow people to find your website and link to you.
But what should your domain name be? If you have a business, that should be an easy question to answer, since your website should match your business name. If you're creating a personal site or blog, though, you can get a little more creative with your name
How to Choose a Domain Name
A domain name will look something like http://www.yoursite.com. It's common to use your organization or business name here. For example, if you own a bookstore, you might choosethebookstorename.com. The same format would work for pretty much any other business name.
If you don't already have a business name, it's good idea to choose one based on what might be available as a domain. This is a great opportunity to match up your business and online identities from the start.
Hosting Explained
Now that your site has a name, you'll need a place to keep all the stuff that's going to go on it–some "real estate" upon which you can build that beautiful virtual house with all of your photos and stories and products. We call that real estate web hosting.
All web hosting happens on a server, which, in the simplest terms, is a remote hard driveconnected to your computer by (you guessed it) the Internet. This server stores all of the documents, images, data, and files associated with your website.
Since the server holds all your important stuff, it's important to choose a reliable provider that ensures your content will stay live and protected. When you bought your domain name, the registrar (the company that sells domains) may have offered to include a web builder plan which included hosting. Alternately, you can install software, such as WordPress, to help you create your site.
.
Having trouble installing your blog? Get help here.
Step 3: Customize your blog
Logging in
If you are not already logged-in, go to yourdomain.com/wp-admin.  You can then login using your domain name and the password you set in the previous step.  If you have misplaced your password you can reset it by clicking the "Forgot Password" link.
Changing your blog design
Once you login you will be in the WordPress administrator area. This is where you can make any changes you want to your blog.
Everyone has a different idea of how they want their blog to look. So after going through the guide to start and create a blog in Cameroon, you now left with the fantasy of chosing a design. One of the great things about a WordPress blog is that you can change your entire layout and design with just a few clicks.
In WordPress, blog layouts are known as "Themes". What is a blog theme? Themes control the entire design of your blog. To change your theme you are going to click on the "Appearance" tab on the left menu.
You will see several themes are already installed on your blog: Twenty Seventeen, Twenty Sixteen, etc. These are well-designed, clean-looking themes that can work for just about any type of blog. In fact, many of the world's top bloggers use one of these themes.
Unless you have a very specific design in mind for your blog, I suggest you use one of these themes to start with. For our example, let's use the "Twenty Sixteen" theme. In order to activate the theme on your blog, hover over the theme and click the "Activate" button. That's it! You have changed the entire design of your blog with just one click!
If you don't like any of the themes that are already installed you can easily choose from thousands of other free themes. To install a new theme, click on the "Appearance" tab on the left menu and then click "Add New Theme".
This is the theme search screen.  There are thousands of themes to choose from.  You can change your entire design at anytime simply by activating a new theme.  To find a theme you like, I suggest you click on the "Popular" tab and start browsing. When you find one that you like click the blue "Install" button.
Once the theme is installed click "Activate" to activate the theme on your blog. To see your new theme in action, go to your blog and take a look!
Changing your theme is the simplest way to customize your blog, but there are lots of of other customizations you can do. Check out my full post on customizing your blog for an in-depth step-by-step guide. You can also watch the video at the end of this guide to see me completely customize a blog from scratch.
Step 4: How to write a blog post & publish it
Now that you have succeeded to start and create a blog in Cameroon, and your blog is up and running it's time to actually do some blogging!
Go to the left menu and click on "Posts".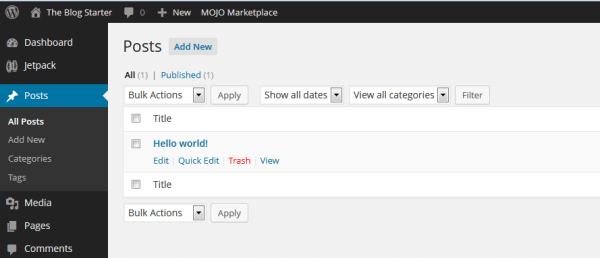 You will see there is already a post there. This is a default post on every new WordPress blog, and we don't need it. To delete it click "Trash" just under the post.
To begin writing a new post, click the "Add New" link.
You are now on the post editor screen. Enter the title of your post in the top box and then begin writing your post in the lower box.
If you would like to add a picture to your post, click on the "Add Image" icon and click "Upload" to upload a picture from your computer. You can make adjustments to the picture size on the next screen. When you are ready click "Insert into post" to add the picture.
Once you have finished your post just click the "Publish" button on the top right side of the screen to publish it.
Step 5: Promote your blog after you start and create a blog in Cameroon
Creating a well-designed blog and writing great content is just the start. In order to get readers for your blog you will need spend some time promoting it, especially when you first start.
One of my favorite ways to get readers to my blog is to post links on my social media accounts like Facebook and Twitter. This is great, because not only do your friends see the link, but if your friends share the link with their friends it automatically multiplies your readers. If you have created high-quality content on your blog then social media is a great way for your blog to go viral.
In addition to getting new readers to your blog, you will also want to make sure your current readers are coming back. This is where email marketing plays a big role. By collecting the email addresses of your visitors (with their permission of course), you can then notify them when you post something new on your blog. This keeps people coming back to your blog, which not only gives you more readers over time, it also allows you to build a closer relationship with your readers.
Step 6: Make money blogging after you start and create a blog in Cameroon
Once you have followed the step by step guide to start and create a blog in Cameroon, and you have put in the effort of creating great blog content and promoting your blog, making money from your blog is actually the easy part.
There are several ways you can make money blogging, from selling your own products or services, to getting paid to write reviews of products on your blog. But the easiest way to make money from your blog is to sell advertising space.
Once you have a popular blog, advertisers will be hounding you for the opportunity to advertise. The best way to take advantage of this situation is to use Google Adsense. They find the advertisers for you and all you have to do is place the Google Adsense code on your blog to start running ads. Google Adsense takes all of the hard work out of the process and just cuts you a check. Learn more on make money blogging by reading my guide on How to make money online in Cameroon